The Dropa Stones
Alleged Discovery-- Chi Pu Tei, a professor of archaeology at Beijing University, and his students were on an expedition to explore a series of caves in the pathless Himalayan mountains of the remote Bayan-Kara-Ula in Qinghai on the border of China and Tibet. The caves may have been artificially carved to be a system of tunnels and underground storerooms. The walls were squared and glazed, as if cut into the mountain with great heat.
They found many neat rows of tombs with short 4 ft 4 in inch skeletons buried within. The skeletons had abnormally big heads, and small, thin, fragile bodies. A member of the team suggested that these might be the remains of an unknown species of mountain gorilla. Prof. Chi Pu Tei was said to respond, "Who ever heard of apes burying one another?"
There were no epitaphs at the graves, but instead hundreds of one foot wide stone discs ("Dropa Stones") were found having 3/4 inch wide holes in their centers. On the walls were carved pictures of the rising sun, moon, stars, the land, mountains, and lines of pea-sized dots connecting the earth with the sky. Along with the discs, the cave drawings had been determined to be about 12,000 years old.
Alien Toy?
They are considered as a mystery of archaeology and all attempts to solve it - have unfortunately, failed.
Over 100 of these anonymous and enigmatic objects have been discovered on Roman sites in Great Britain, Belgium, Germany, France, Italy, Luxembourg, Netherlands, Austria, Switzerland, and Eastern Europe.
They do not appear in any surviving pictures of the time, although, they can be found in museums and many private collections.
Legendary Cauldrons
A team of Russian scientists and researchers have just returned from the "Valley of Death" region in Siberia with startling claims. Lead scientist Michale Visok had this to say in an interview with a Russian newspaper on what they had found:
"We went out into the Valley of Death to really see and investigate the metal cauldrons that people claim exist there and we actually found five metallic objects buried in marsh like swamps"
Michale gave the following details about these metal objects:
They are each submerged in small pools of swamp like water that is anywhere from 2-3 feet deep.
They are definitely metallic. The scientists entered each swamp and walked on top of the objects and heard metallic sounds when striking the objects.
The tops of the objects are very smooth to the touch but there are sharp points along the outer edges.
2 of the team members got ill during the investigation.
The team consisted of 3 geologists, 1 astrophysicist, 1 mechanical engineer and 3 research assistants.
Read more Here
Unexplained Stones
Archaeologists have unearthed several strange unexplained objects and stones with ancient inscriptions on them in the United States that seem to point to the discovery of America happening hundreds or even thousands of years before Columbus did.
Were ancient people travelling the oceans to America thousands of years before history tells us? Was the United States discovered thousands of years before Columbus did? These are questions that intrigue all of us and the answers are not as simple as yes or no. Archaeologists and historians have given us a pretty good picture of life in the United States before Columbus's big discovery but there have also been objects and inscriptions found that point to ancient people being in America thousands of years before it too. Below are some of the most baffling objects found with inscriptions that point to America being discovered way before Columbus:
Hebrew Inscription Stones and Objects
The Keystone
Discovered in June 1860 at the Newark Earthworks in Ohio by David Wyrick. The stone is named a keystone because of its general shape but the corners are rounded so it was not used as a keystone. Most archaeologists think the knob at the end was held in the right hand and then was turned to read the inscriptions on all four sides in succession. Estimates of its age is anywhere from 100BC-500AD. The stone has four inscriptions (one on each side) that are written in an ancient Hebrew script. The four sides translate as follows:
· Qedosh Qedoshim, "Holy of Holies"
· Melek Eretz, "King of the Earth"
· Torath YHWH, "The Law of God"
· Devor YHWH, "The Word of God"
Read more Here
Tiny Grooved Spheres of South Africa
The "Ottosdal objects" are spherical and subspherical objects that were found in 3.0 to 3.1 billion-year-old (Precambrian) pyrophyllite deposits in South Africa (Jackson 1992).
"Over the past several decades, South African miners have found hundreds of metallic spheres, at least one of which has three parallel grooves running around its equator. The spheres are of two types–'one of solid bluish metal with white flecks, and another which is a hollow ball filled with a white spongy center' (Jimison 1982). Roelf Marx, curator of the museum of Klerksdorp, South Africa, where some of the spheres are housed, said: 'The spheres are a complete mystery. They look man-made, yet at the time in Earth's history when they came to rest in this rock no intelligent life existed. They're nothing like I have ever seen before' (Jimison 1982)."
Even more interesting is the discovery that Iapetus' conspicuous equatorial bulge, seen up close, appears to be composed of three distinct "layers" — remarkably like the grooved rings encircling the enigmatic spheres described above. As the ever-controversial Richard Hoagland notes regarding Saturn's unlikely moon: "It is a well-known cliché that 'Nature doesn't usually create straight lines.' If that is true, then it certainly doesn't create three of them (close-up-below) — all running parallel, not only to each other, but to the literal equator of the planet."
Ancient Coin from Illinois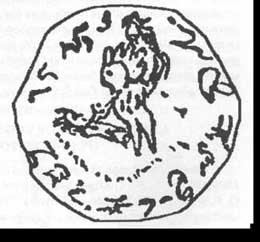 This coinlike object, from a well boring near Lawn Ridge, Illinois, was reportedly found at a depth of about 114 feet below the surface (Winchell 1881, p. 170). According to information supplied by the Illinois State Geological Survey, the deposits containing the coin are between 200,000 and 400,000 years old. [p. 801,Forbidden Archaeology]
Mysterious Letters from a Quarry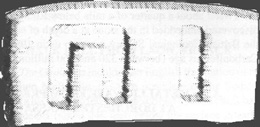 Raised letterlike shapes found inside a block of marble from a quarry near Philadelphia, Pennsylvania (Corliss 1978, p. 657; American Journal of Science 1831, vol. 19, p. 361). The block of marble came from a depth of 60-70 feet in strata dated 500-600 million years old. [p. 797, Forbidden Archeology]
Metallic vase found inside solid rock
Dorchester Pot
Scientific American

20,000 Year Old Spiral-Shaped Metal Object Found in Russia
In the years 1991-1993, gold prospectors on the small river Narada, on the eastern side of the Ural mountains, have found unusual, mostly spiral-shaped objects. The size of these things ranges from a maximum of 3 cm (1.2 in.) down to an incredible 0.003 mm, about 1/10,000th of an inch! To date, these inexplicable artifacts have been found in their thousands at various sites near the rivers Narada, Kozhim, and Balbanyu, and also by two smaller streams named Vtvisty and Lapkhevozh, mostly at depths between 3 and 12 meters (10 and 40 ft.)
The spiral-form objects are composed of various metals: the larger ones are of copper, while the small and very small ones are of the rare metals tungsten and molybdenum. Tungsten has a high atomic weight, and is also very dense, with a melting point of 3410 deg. C (6100 deg. F). It is used principally for the hardening of special steels, and in unalloyed form for the filaments of light bulbs. Molybdenum also has a high density, and a respectable melting point of 2650 deg. C (4740 deg. F). This metal too is used for hardening steels and giving them corrosion-resistant properties, these being used principally for highly-stressed weapon parts and vehicle armor. All tests carried out to date these objects to around 20,000 years old.
Ancient Spark Plug?
Found in California, a rock was cracked open in search of fossils. But instead of a fossil, out fell a very strange object. The rock came from a formation that had been dated at around half a million years old. In the picture below on the right is an x-ray of the object. It is composed of a ceramic material and metal. In some respects it resembles a modern spark plug.
Ancient Human Clay Doll
A small human image, skillfully formed in clay, was found in 1889 at Nampa, Idaho. The figurine came from the the 300-foot level of a well boring, and dated to be of the Plio-Pleistocene age, about 2 million years ago. G. F. Wright noted, "The image is about an inch and a half long; and remarkable for the perfection with which it represents the human form... It was a female figure, and had the lifelike lineaments in the parts which were finished that would do credit to the classic centers of art. Upon showing the object to Professor F. W. Putnam," wrote Wright, "he at once directed attention to the character of the incrustations of iron upon the surface as indicative of a relic of considerable antiquity. There were patches of anhydrous red oxide of iron in protected places upon it, such as could not have been formed upon any fraudulent object.
Ancient Spherical Rock
The April 1862 edition of The Geologist included an English. translation of the following report by Maximilien Melleville, the vice president of the Societe Academique of Laon , France.
"It really is penetrated over four-fifths of its height by a black bituminous color that merges toward the top into a yellow circle, and which is evidently due to the contact of the lignite in which it had been for so long a time plunged. The upper part, which was in contact with the shell bed, on the contrary has preserved its natural color, the dull white of the chalk.... As to the rock in which it was found, I can affirm that it is perfectly virgin, and presents no trace whatever of any ancient exploitation. As extraordinary as it might seem to those attached to standard evolutionary views, the evidence associated in this find suggest that if humans made the ball, they must have been in France 45 - 55 million years ago. This chalk ball was discovered in an Early Eocene lignite bed. On the basis of its stratigraphic position, is has been assigned a date of 45 - 55 million years ago."
Ancient Pestle and Mortar
In 1877, J. H. Neale was superintendent of the Montezuma Tunnel Company, and ran the Montezuma tunnel into the gravel underlying the lava of Table Mountain, Tuolumne County. At a distance of between 1400 and 1500 feet from the mouth of the tunnel, or of between 200 and 300 feet beyond the edge of the solid lava, Mr. Neale saw several spear-heads of some dark rock and nearly a foot in length. On looking closer, he found a small mortar three or four inches in diameter and of irregular shape. This was discovered within a foot or two of the spear-heads. He then found a large well-formed pestle and near by a large and very regular mortar. All of these relics were found the same afternoon, and were all within a few feet of one another and close to the bed-rock. Mr. Neale insists that it is completely impossible that these relics could have reached the position they were found in except at the time the gravel was deposited, and before the lava cap formed. The position of the artifacts in gravel close to the bed-rock at Tuolumne Table Mountain indicates they were between 33-55 million years old
Ancient Shoe Print
Imprint of a shoe sole embedded in one billion year old solid granite
The Fuente Magna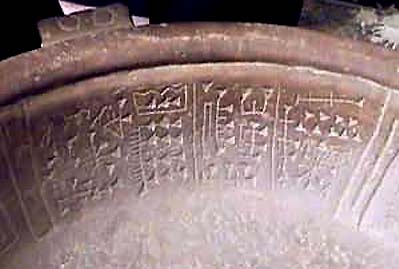 The Fuente Magna, also known as the Fuente Bowl is a controversial artifact discovered in Bolivia. It bears writing in what has been described as Sumerian and proto-Sumerian cuneiform

The Kingoodie Hammer (The London Hammer)
The Kingoodie artifact is an object with the characteristics of a corroded iron nail found in a block of sandstone in 1844 in the Kingoodie Quarry in Kingoodie, Scotland.
David Brewster reported to the British Association that the nail was found when a rough block of stone was being prepared for dressing. The nail was discovered when the overlying clay was cleared from the stone, with half an inch (12.5 mm) of the nail projecting into the clay and the remainder of the nail lying along the surface of the stone to within an inch of the head which went down into the stone. It is not known from what part of the quarry the stone came from, and it was handled at least four or five times between being found in the quarry and moved to where it was dressed.
The Salzburg Cube (Wolfsegg Iron)
The Salzburg Cube, is a small cuboid mass of iron that was found buried in Tertiary lignite in Wolfsegg, Austria, in 1885. It weighs 785 grams and measures 67 x 67 x 47mm. Four of its sides are roughly flat, while the two remaining sides (opposite each other) are convex. A fairly deep groove is incised all the way around the object, about mid-way up its height.
Originally identified as being of meteoric origin, a suggestion later ruled out by analysis, it seems most likely that it is a piece of cast iron used as ballast in mining machinery, it is said to be a 20 million years old.
The Diquis Spheres
Known locally as Las Bolas, the spheres range in size from a few centimetres to over two metres in diameter, and weigh up to 16 tons. Most are sculpted from gabbro, the granitic equivalent of basalt. There are a dozen or so made from shell-rich limestone, and another dozen made from a sandstone. The stones are believed to have been carved between 200 BC and 1500 AD.
The Phaistos Disc
The Phaistos Disc was discovered in the basement of room XL-101 of the Minoan palace-site of Phaistos, near Hagia Triada, on the south coast of Crete. Italian archaeologist Luigi Pernier recovered this remarkably intact "dish", about 15 cm in diameter and uniformly just over 1 cm thick, on July 3, 1908.
Luigi Pernier discovered the disc during his excavation of the first Minoan palace. It was found in the main cell of an underground "temple depository". These basement cells, only accessible from above, were neatly covered with a layer of fine plaster. Their context was poor in precious artifacts but rich in black earth and ashes, mixed with burnt bovine bones. In the northern part of the main cell, a few inches south-east of the disk, and about twenty inches above the floor, linear A tablet PH-1 was also found. The site apparently collapsed as a result of an earthquake, possibly linked with the explosive eruption of the Santorini volcano that affected large parts of the Mediterranean region ca. 1628 BC.
The inscription was made by pressing pre-formed hieroglyphic "seals" into the soft clay, in a clockwise sequence spiraling towards the disc's center. It was then baked at high temperature. There are a total of 241 figures on the disc.
Many of the 45 different glyphs represent easily identifiable every-day things, including human figures, fish, birds, insects, plants, a boat, a shield, a staff, etc. In addition to these, there is a small diagonal line that occurs underneath the final sign in a group a total of 18 times. The disk shows traces of corrections made by the scribe in several places.
The Baghdad Battery
German archaeologist , Wilhelm König, examined the object and came to a surprising conclusion that the clay pot was nothing less than an ancient electric battery.
In 1936, while excavating ruins of a 2000-year-old village near Baghdad, workers discovered mysterious small vase. A 6-inch-high pot of bright yellow clay dating back two millennia contained a cylinder of sheet-copper 5 inches by 1.5 inches. The edge of the copper cylinder was soldered with a 60-40 lead-tin alloy comparable to today's solder. The bottom of the cylinder was capped with a crimped-in copper disk and sealed with bitumen or asphalt. Another insulating layer of asphalt sealed the top and also held in place an iron rod suspended into the center of the copper cylinder. The rod showed evidence of having been corroded with an acidic agent.
Mystery Stone of Lake Winnipesaukee
The Mystery Stone of Lake Winnipesaukee, New Hampshire is an egg shaped artifact found in 1872. The origins and purpose of the artifact are still unknown -- there are no other known objects bearing similar markings or design. The stone is currently on display at the Museum of New Hampshire History.
The stone was discovered in 1872, when construction workers found a lump of clay while digging a hole. Noting its odd shape, Seneca A. Ladd kept it and later discovered an egg shaped stone encased within the clay. Later that year, the American Naturalist hailed the piece as Òa remarkable Indian relic." After his death, Mr. Ladd's daughter donated the egg to the New Hampshire Historical Society in 1927.
The stone is a type of quartzite, derived from sandstone, or mylonite, a fine-grained, laminated rock formed by the shifting of rock layers along faults. The rock type is not familiar to New Hampshire, but the state can not be ruled out as the source. There have also been suggestions that the egg is Celtic or Inuit in orgin.
Tecaxic-Calixtlahuaca Head
A terracotta head found in Mexico that some say is of Roman origin.
New Mexico footprints 290 million years old
Paleontologist Jerry MacDonald found a wide variety of fossilized tracks in 1987. The ancient tracks were made by a variety of animals and birds, located in a Permian strata.
Among the various fossilized tracks MacDonald discovered undeniable prints of a naked human foot impossibly located in the Permian strata.
The Permian strata dates from 290 to 248 million years ago—many millions of years before animals, birds, dinosaurs, and man existed.
In July 1992, the Smithsonian Magazine ran an article on MacDonald's tracks, "Petrified Footprints: A Puzzling Parade of Permian Beasts."
Smithsonian admitted the mystery and acknowledged "what paleontologists like to call, 'problematica.'" It described what appeared to be human footprints. Humans "evolved long after the Permian period, yet these tracks are clearly Permian."